Proven LNG technical advice
Merlin Advisors is a wholly-owned subsidiary of Poten & Partners. Merlin was formed through a merger of Merlin Associates' and Poten & Partners' technical teams, bringing together two of the most experienced advisors to the LNG business with over 60 years of combined industry experience.
Merlin helps clients with

Risk Mitigation
Merlin focuses on the timely assessment and mitigation of risks associated with technology and engineering choices, capacity scale-up, and project implementation.

Strategy Development
Merlin is experienced with EPC contractor strategies, capabilities and their strengths. Understanding project development is a core skill set.

Decision Support
Merlin understands the economic and commercial implications of technical decisions and works with clients across the industry value chain.
Merlin Advisors brings complete and
in-depth technical support to projects
Merlin provides technical advice to the LNG and natural gas industries. This service complements Poten's commercial, market, and shipping advisory by providing a fully rounded, all-inclusive approach to client needs.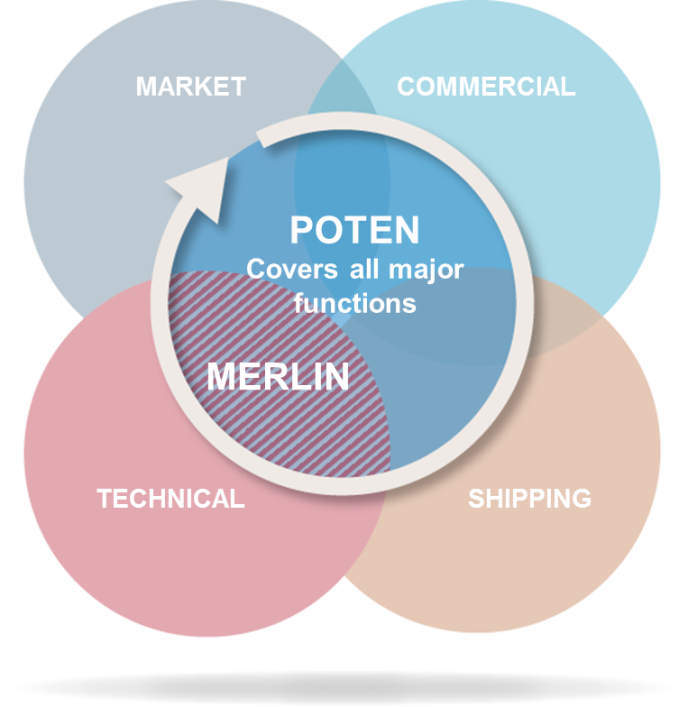 Monitoring
Merlin Advisors provides construction and operations monitoring services across the full LNG supply chain: liquefaction, shipping, pipeline, regasification. Merlin has provided monitoring services for major LNG liquefaction projects, interstate pipelines, Onshore regasification and FSRUs. Merlin is retained to monitor the investment on behalf of lenders and provide timely reports on the project performance.
Project Feasibility 
Merlin Advisors assists project equity and financing participants in evaluating project viability. The analysis and results are tailored to client needs. The most common first step is to develop a preliminary Basis of Design for the specific project being evaluated. Merlin LNG Capital Cost Estimate Models are fundamental to establishing the preliminary Basis of Design and to preparing an initial cost estimate.
Project Due Diligence 
LNG projects are extremely capital intensive; requiring a very long period of capital expenditure during the design, procurement and construction phases before there is any income. Due to size and complexity, they are almost always multi-participant ventures. Since the large investment exceeds the internal funding capabilities of all but the very largest oil companies, it is very common for ventures to turn to project financing.
Capital Cost Estimation

 
Merlin Advisors has a large, detailed database of existing LNG project costs, including actual purchase orders and sub-contract costs. This extensive database provides critical inputs for Merlin's proprietary LNG Capital Cost Estimate Models for the entire LNG supply chain and includes actual LNG-specific cost data for liquefaction trains ranging in size from as small as 2.5 MMt/y to as large as 6 MMt/y.
Benchmarking 
Merlin Advisors provides technical consulting services across the full spectrum of energy production, transmission and end-user industries. Merlin has developed a massive database through work performed for technology licensors, project developers and project finance institutions. We have a broad and detailed database covering the most LNG process technologies. 
Owner's Engineering 
Merlin Advisors provides technical expertise and project management skills on behalf of the project owner. These services typically include undertaking project pre-feasibility studies, crafting a Request For Proposal for Front End Engineering Design, selecting of FEED contractors, preparing of bid documentation for EPC invitation, selecting of preferred contractor assisting in contract negotiations and more.
Training
Merlin has developed and taught an LNG Technology course at several client locations and the Topsides Facilities Design Module for the Tension Leg Platform Design course sponsored by the ASME Offshore Mechanics & Arctic Engineering Division as part of the Offshore Technology Conference held annually in Houston. We have an intensive Offshore Process Facility Design Course presented over a 2 week period that we have taught in numerous locations worldwide.
Project Risk
Merlin Advisors provides a set of risk criteria or a band of predicted outcomes. Merlin's risk analysis is a must-have for the financing community and frequently justified for equity participants lacking the requisite internal LNG technical expertise and an up-to-date database of project costs. Joint use of an independent consultant by both sellers and buyers helps eliminate internal disagreements and can greatly assist in negotiating LNG Sales and Purchase Agreements.